What does a PCB and a PCBA mean ?
Usage of these two acronyms is sometimes not well understood and often used indifferently, nonetheless they are different terms.
PCB definition
The PCB acronym means "Print Circuit Board" in plain English. It is referring to the plate or laminate or board used to support the electronic components. The board includes connection routes internally made of thin copper with tin coating to prevent copper oxydation. PCB are sometimes calles electronic board.
PCBs can be of different materials, the most common being FR4, a green rigid plastic, but can also be made of flexible plastics and aluminium which is preferred for better heat exchange.
They also can come in different thickness and can include several layers, each layer having it's own connecting route.
PCB are also usually marked with silkscreen in order to show component position and component naming.
PCBA definition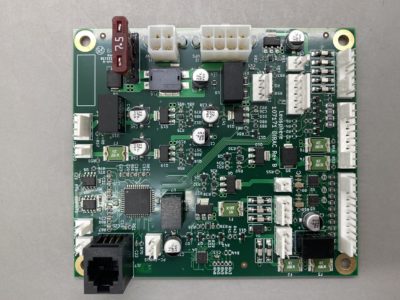 The PCBA acronyms refers to "Print Circuit Board Assembled".
PBCA are electronic boards assembled with electronic components. Components are often welded, but they can also be set or glued. PCBA can also include a varnish top layer applied after components assembly to protect against dust and humidity for harsh environment usage.
Component assembly on the electronic board can be done on one face or both faces of the board. It can be done very quickly on high technology automatic machine (SMT) or manually by operators working on a production line. Manual assembly is preferred for big electronic components and connectors.
For SMT components welding can also be made automatically on welding wave equipment. It is important to notice that the welding of components on the PCBA can be made with leaded welding paste, which is forbidden in EU, it is therefore recommended to request assembly lines dedicated to RoHs products in order to reduce pollution risk.
Contrary to the PCB production which is a very polluting chemical process with most of the suppliers located in Asia, PCBA assembly is a relatively clean operation done in cleanrooms. Assembly process is even less polluting with RoHs products, therefore there is PCBA manufacturer (EMS) almost everywhere in the world. Differentiating factors for EMS being modernity of equipment, labor cost and component availability.
In a nutshell
A PCBA is a PCB assembled with electronic components. Though in usage, many used indistinctly these two terms we recommend to use correct terms to avoid misunderstanding.
Other articles on subcontracting